Network installations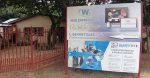 Short Business Description
Gigabyte Tech is the leading technology repair company in Brits South Africa specializing in PC, Computer ,Laptop Repair, Laptop Screen Replacement, Laptop Screen Repair, We also have an online store.
Long Business Description
Our highly qualified team of technical experts offer a comprehensive range of computer repair services. With many years of hard-earned experience fixing PC related issues on some of the first-ever released desktops, to diagnosing and repairing issues on the latest Core I9 desktop and server computers, Our technicians have seen and fixed it all.
We don't give up. If there is a solution to your desktop computer repair problem, we will find it, and fix it. Our guys enjoy the challenge, and we want to help you. Your desktop computer is in good hands with us.
Our technical team can recommend some basic and affordable hardware upgrades that will drastically improve the performance of your PC. We have years of experience in servicing the software and operating system on your PC to improve and increase the overall performance, drastically.
Business Phone Number
0740126823