Flash Refrigeration Services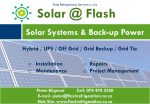 Short Business Description
Design and Installation of all Solar systems

Long Business Description
Solar Installations: We are keeping abreast with the latest technology available by installing LED products, Inverter and Solar installations and using this technology for comfort and better energy efficiency.
We can deliver cost-effective solutions from small scale solar projects to large grid connected solar plants. We specialize in the design, installation and support of these solutions using top quality components, backed by trained professionals.
We offer a complete solution to our customers with involvement in every phase of a solar project that extends from design and development through to financing, engineering and consulting.
Business Phone Number
0784785350