exceeding your expectations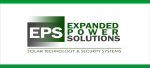 Short Business Description
SUPPLIER OF SOLAR SYSTEMS AND SECURITY TECHNOLOGY
Long Business Description
Expanded Power Solutions strives to be the leading Regional Renewable Energy Company and provider of Security technologies that help our people achieve the following through our product and services.
• Renewable Energy offering – access to reliable affordable quality energy source for an energy secure future
• Security Technology offering- access to modern security technology that seamlessly integrates with the IoT for smart homes and workplaces, giving them a secure living environment.
A home or workplace with access to quality affordable energy and a secure environment to work and live in.
Business Phone Number
0848945808