Epico Networks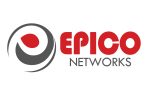 Short Business Description
Epico Networks (Pty) Ltd is an Information Technology (IT) company capable of offering clients fully integrated ICT solutions relevant to their infrastructure and networking domains.
ACCRTEDITED SITA RFB740 SERVICE PROVIDER
Hardware and Software Distribution, Specialised Network Solutions, Internet Service Provider Services, Infrastructure facilities solutions, Telecommunications, Security and Building Management
Long Business Description
PROFESSIONAL SERVICES
Hardware and Software Distribution
We provide a wide range of:
• Laptops, Servers, Network Printers
• Peripherals
• Network and Enterprise equipment
• Software (Microsoft, Nettrace and many more)
We are brand independent and have accredited Gold partnerships with all the major suppliers and brands in South Africa.
Specialised Network Solutions
We provide customized IT solutions and leading edge technology that enables our clients to operate their businesses effectively. We possess a highly skilled technical work force that effectively accommodates any client with the following services:
• Network design, implementation and support (MPLS, LAN & WAN)
• Managed Outsource solutions (SLA'S)
• Open Source Solutions (Linux & Unix)
• Security and Firewall Solutions
• Hardware & Software Product supply, vendor independent
• Backup & Anti-virus
• Implementation of global mobility solutions
Internet Service Provider Services
We offer Internet and Cloud Service solutions keeping our clients online. We strive to be the premier provider of internet services, including:
• Cloud Solutions
• Cloud Virtual Server Hosting
• Dedicated Sever Hosting
• Co-Location Server Hosting
• High Availability Cluster Server Hosting
• Connectivity: Fibre, Microwave, Wireless, VSAT,
DSL, APN LTE, VPN and IoT
• IP Transit
• SaaS - Software as a service
• IaaS - Infrastructure as a service
• PaaS - Platform as a service
• Website/Mail Hosting, Backup and Fax Solutions
Infrastructure facilities solutions
Construction of building infrastructure and Data Centre's with all environment controls (access control, surveillance, fire protections, false flooring, temperature controls, and remote management)
• Communication cabling; interface with various
PBX solutions
• Installation of Optical Fibre
• Installation of Premises Distribution Systems for
Molex, Krone, Siemons, Fujikura and MEGAnet
Telecommunications
Epico Networks offers cost effective voice, data and hosted services to meet our customers ever growing technological needs. Our voice solutions provide customers with the option of replacing their existing voice infrastructure to substantially reduce their monthly telecommunications bill. These solutions are hosted
either on-site or in the Epico Networks Cloud.
Our Telecommunication Services include:
• On-site Software & Hardware PBX Solutions
• Cloud Hosted PBX Solutions
• Unified Communications
• Hosted Extensions
• VoIP - Quality & Reliable Services
• Geographical Number porting and allocations
• Call Recording
• Management Portal
• On – Site 3CX Software PBX Solutions
• Cloud 3CX Software PBX Solutions
• Video Conferencing
Security and Building Management
Epico Networks develop, supply, implement and maintain building management systems, or parts thereof:
• Surveillance cameras
• Security control systems
• Digital video recording systems
• Physical access control / perimeter security solutions
• Boom gates, gate automation
• Card readers, tokens, biometrics
Business Phone Number
0108807785
Business Address
Head Office
Boardwalk Office Park, Block 1,
First Floor, 107 Haymeadow Crescent,
Pretoria

Western Cape
The Vineyard Building,
Devon Valley, Stellenbosch,
Block BG-09

Zimbali – KZN
No 1 Zimbali Wedge Office Park,
Ballito
4418

Richards Bay – KZN
Suite 4, Quay Walk Building,
Tuzi Gazi Waterfront,
Richards Bay, 3900

Free State
East End Business Park,
32 MacKenzie Street, Warehouse 14,
East End, Bloemfontein, 9301