Acnode Group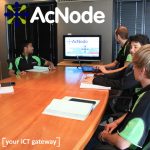 Short Business Description
Acnode Group is a comprehensive outsourced IT support solution for SME's and businesses.
We offer onsite IT support services in the Cape Town, Johannesburg, Centurion and Pretoria areas. Remote IT Support services are available anywhere in the world.
Long Business Description
We offer comprehensive IT support services that allow your business to succeed. These services include Remote IT support, Onsite IT support, Cloud based E-mail, VOIP solutions and domain administration. A combination of these services is also available through our Service Level Agreement. We cater for your business's hardware and software procurement needs. Server, workstation and network equipment, Operating Systems (OS), anti-malware solutions and Microsoft Office. We offer a broad range of wide area networking solutions from Fibre-optic, Guaranteed Diginet, Virtual Private Networking (VPN) and Wireless solutions. Local area network cabling, upgrades and installation is also available through us. We offer design and development services from small personal sites to full functional business sites. Additionally, we can compliment your online presence with SEO and social media management.
Business Phone Number
+27 (0)21 007 2630
Business Address
EDWARD IV BUILDING
122 EDWARD ROAD OAKDALE
BELLVILLE
7530