KAKAMAS SKRYFBEHOEFTES BK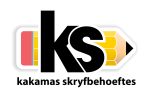 Short Business Description
Selling stationery, computer equipment, IT serves, printers, toners, cartridges, digital printing, laser cutting and engraving, laminating, binding and scanning services, etc.
Long Business Description
Walk in shop with online website that sells wide variety of stationery, most popular brands, catering for rich and poor, large variety of computer equipment including all basics like mouse, key board, cables, ups, monitors, scanners, etc, with an IT technician on site. Also variety of printers, toners and cartridges. We also have a digital printing section and a laser cutter and engraver. We offer a public service to the community for laminating, binding, scanning, printing, typing etc. We are a dedicated team that strive to give a high level of service.
Business Phone Number
0544311523
Business Address
Sultanaland Sakesentrum, Voorterkker str 22, Kakamas, 8870