Progenix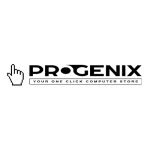 Short Business Description
Progenix is an ITC provider with a difference. Started to fill a service gap in the market, its staff have extensive experience with helping you select the correct hardware for your needs and making suggestions where necessary. Our number one priority is providing you with the best level of service possible, with competitive pricing to match. We pride ourselves in offering international levels of service to a local market. From humble beginnings during the lockdown of 2020, we have grown to a company with many happy customers. Don't just take out word for it - check out our reviews on social media and Hello Peter!

We supply a large number of products from leading manufacturers including ADATA, AMD, Antec, Asus, Cooler Master, Corsair, Crucial, DeepCool, G.Skill, Gainward, Gigabyte, Intel, InWin, Kingston, Lian Li, Logitech, MSI, Noctua, NZXT, Samsung, Seagate, Team Group, Thermal Grizzly, Thermaltake, Ubiquiti, Western Digital, Xtrfy and many, many more.
Long Business Description
Why Support Us?
Customer satisfaction is our priority
Our staff are available during office hours via telephone or email to ensure that your expectations are met. Don't be surprised if you get a reply to your mail after hours - we take things seriously.
Geographically close to suppliers
This means we can get most of our stock within 1-2 working days. In some cases it can even be on the same day! If anything needs to be sourced from a supplier with a longer lead time, we will let you know as soon as possible.
You're not just a number
We care about you and your needs as an individual. Not sure what you're after? We're happy to help you identify the exact components you need via email or a telephone call.
Low overheads
Avoiding flashy offices and other unnecessary overheads means we can give you the best pricing possible. Any savings we make are passed to you, the customer.
Only the best components are offered
We try to limit our stock to components that carry a minimum 12 month warranty, which is the generally accepted minimum. Any less and we feel the manufacturer doesn't have faith in their products. There are a handful of exceptions where there is nothing to go wrong other than physical damage, such as server cabinets and cables.
Large catalogue of components
There are over 4,000 products from almost 100 manufactures in our ever-expanding catalogue, with more being added daily. If you can't find what you're looking for, we'll happily try to source it for you.
Extended Verification SSL
We use GeoTrust Extended Verification SSL, which means that all of our credentials (as well as directors) have been vetted by the SSL issuer and attorneys, and are publicly available. In total, 16 authentication checks are done. The SSL certificate can also be validated via GeTrust.
We support charity
A portion of our proceeds are donated to charity. We have several causes close to our hearts, and we share the love!
Business Phone Number
010 900 0913
Business Address
5 P.A. van Schalkwyk Street
Norkem Park
Kempton Park
1618
Gauteng