123 – YourOnline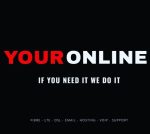 Short Business Description
We are an IT Solutions, Services & Support Company.

Everything you need under 1 umbrella.

With us you have 1 Point of contact, 1 Solutions Provider, no paying this provider for that or that provider for this.

No Call centers, we just a whatsapp message, email or call away.
Long Business Description
Whatever you the client needs or wants, we do.
Internet Access - LTE, Fibre, ADSL, VDSL ( Capped, Uncapped Data ) ADSL & Fibre Lines
Internet & E-mail Solutions - Office 365 , Google Business, Pop Accounts etc
Domain Registration & Renewal
Domain & Website Hosting
Website Design & Maintenance
IT Support, Maintenance & Service Level Agreements ( SLA's )
IT Hardware Sales ( All Brands of Laptops, Desktops, Printers, Scanners, Screens, TV's, Mouse, Keyboards ) E.g Dell, HP, Acer, Mac etc
IT Software Sales ( Windows, Microsoft Office, Office 365, Anti-Virus )
IT Repairs & Upgrades
Onsite & Remote Desktop Laptop Support
Laptop, Desktop, Printer Installations
Data Recovery
Cat5e & Cat6 Network Point Installations
Wireless Network Solutions - Access Points, Range Extenders, Point to Point Solutions
File Server Solutions
Onsite and Remote Offsite Backup Solutions
UPS & Inverter Backup Power / Load Shedding Solutions
CCTV Camera Solutions ( Client can also view the site remotely via Phone and Tablet using an App. )
Alarm Solutions
Server Cabinets
Business Phone Number
086 126 6799
Business Address
22 Pringle Rd, Tijgerhof, Milnerton