A2Z TECH SHOP (PTY) LTD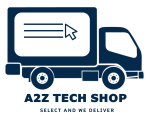 Short Business Description
We are a tech company that supplies, deliver and offer value added services for cutting edge technology to solve today and tomorrow's challenges.
Long Business Description
We are primarily based in Johannesburg, Lonehill in Sandton. We have a cumulative experience of over 10 years in IT and ICT in particular.
Business Phone Number
0108805372