WE "R" IT cc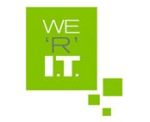 Short Business Description
We are a Reseller of I.T Equipment and Solutions
Long Business Description
WE R IT cc was established in 2006. We "R" IT are able to deliver the best possible service, support and overall solutions to our customer base at the lowest possible cost
We "R" IT strives to be the partner of choice for IT infrastructure, business solutions and related services to corporate South Africa and neighbouring countries by investing in people, maximizing stakeholder wealth, embracing economic empowerment and representing leading technology partners with distinction.
We "R" IT operates as a technology reseller and solutions provider. Its major activities comprise the supply, integration and optimization of IT infrastructure, solutions and related services.
We "R" IT is a leading IT business that provides computing power and business value and operates through our office in Highlands North, Gauteng.
We "R" IT does not manufacture its own products, but represents leading international technology partners with whom the company shares long-standing relationships and for whom it boasts some of the highest partner accreditations in South Africa
Business Phone Number
011 440 2610
Business Address
10 3rd Avenue, Highlands North
Suite 204